Voice of graduates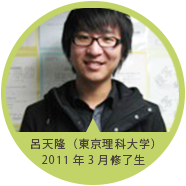 Passed Tokyo University of Science!! I am so happy. Honestly I believe that this success cannot be achieved without my teachers' energetic guidance. I want to thank all of the teachers. On this occasion I would like to introduce some tips I practiced for Japanese language study. ・Concentrate on the class. ・Always follow teachers. ・Take a memo, since the things taught in class are really useful at the test. ・Make a note exclusively for vocabulary. ・Answer the question from teachers even if it was a wrong answer, then you will be able to understand your weak points. ・Remind your mistakes you made, since it is a shame to make a same mistake again and again. ・Concentrate on what teachers say, since their explanation is easier to understand rather than textbooks. ・Master the basic since the basic is always very important. If you completely understand the basic, you will be able to study before and after the class. In my case, I studied N2 level in the class, then studied N1 level at my home. I asked teachers what I did not understand at my home. Teachers are very kind by the way, so do not hesitate to ask any questions to them. I also passed N1 test thanks to the teachers. I think that many little steps can lead to the high score of EJU. If you got high score in EJU, you would get the chance to enroll famous university which you would like to go the most. Last tip is to learn Japanese from a daily life. For example, please listen to the radio or watch TV on a free time. It is also very nice to read Japanese novel since you can read it anytime. You can search a dictionary when you met the words you do not know. The phrases you learn from these sources are more close to those that Japanese native speakers use, so it is worth to learn them.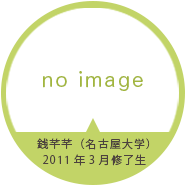 Hello. My name is ?????? graduated 2011. I passed Nagoya University and Yokohama National University under the guidance of An Language School's teachers. Well, please let me give an advice for those who enroll to An Language School in the future.
If you would like to study in Japan and to enter the first-class university, scores of TOEIC and TOEFL are necessary. TOEIC is easier than TOEFL, but you will need TOEFL score to enroll to first class university, so if you are confident with English skill it would be better to take a TOEIC or TOEFL in your country. In terms of environment of English study, I think it would be better to study in your country rather than taking an English test in Japan. However, if you are not confident with English skill, but study hard in Japan, of course you will get better scores.
Most of the universities regard EJU as important. What you learn every day in the class is very important to get high score in the subject of Japanese as a Foreign Language in EJU. Even if you feel that what you are learning now is meaningless, you must participate the class since things you learn in the class is very useful for EJU. This is what I strongly felt with my practical experience. When it comes to the subject of mathematics in EJU, I think that it is easier than the same subject I learnt in China. Therefore I believe that even if you are not confident with mathematics, you will very likely to get high score as long as you study hard. For general test of EJU, it has a lots of subject to learn, such as economy, politics, history, geology and current events. Particularly, economy and geology will be covered a lot in exam. I think there is a difficulty for Chinese students to study economy which we did not learn in high school. However, in An Language School, there is a special class for EJU so you can take it and overcome your weak point. For those who did not achieve their target scores in EJU or TOEFL, there is a general exam. The contents of exam are writings and interview, and some of the schools may only contain 1 subject. If you have your own strong point, it might be better to search the school offering a subject that you are very well at.
Lastly what I want to say the most is that just because you have a good score of EJU and TOEFL does not mean you can pass the school you want to go to. Actually some of my classmates could not pass the exam I passed, despite the fact that they got the score in EJU 30 to 40 point better than me. If there was an interview other than writing test, the result would be different. If you could fluently talk in the face to face interview, you would pass the exam.
I hope that all of you will pass the school you want to go to.
University introduction
| | |
| --- | --- |
| Post-graduate Universities | Daito Bunka University, Gakusyuin University, Chiba University, Nihon University, Waseda University, Yokohama National University, The University of Electro-Communications, Tokyo Gakugei University, Hokkaido University, Tokyo Metropolitan University, Tokyo Polytechnic University, Reitaku University, Tokyo University of Marine Science and Technology, Tokai University, Chuo University, Sophia University and others |
| Under graduate Universities | Chuo Gakuin University, Tokyo University of Marine and Science, Daito Bunka University, Bunri University of Hospitality, Sanno University, Japan University of Economics, Takachiho University, Shibaura Institute of Technology, Kokushikan University, Komazawa University, Meiji Gakuin University, Kokugakuin University, Nihon University, Meikai University, Keiai University, Chuo University, Saitama University, Rikkyo University, Musashino Academia Musicae, Shobi University, Wako University, Ashikaga University, Ryutsu Keizai University, Takushoku University, Tokyo University of Technology, Mejiro University, Kogakuin University, Hosei University, Bunka Gakuen University, Tokyo University of Agriculture, Doshisha University, J. F. Oberlin University, Tokyo University of Foreign Studies and others |
| Vocational Colleges | Mejiro Fashion and Art College, Yomiuri College of Car Mechanic, Pro-industry Technical School of Tokyo, Tokyo International Business College, Chuo College of Technoogy, Shurin College of Foreign Language, Ecole de Patisserie de Tokio, Shobi College of Music, Hiko Mizuno College of Jewelry, Sundai Travel & Hotel College, International School of Business, O-hara Boki College, Tokyo Foreign Language College, HAL Tokyo College of Technology & Design, JTB Travel & Hotel College, Nihon Kashi College, Hollywood Beauty College, Tokyo IT & Account College, Hattori Nutrition College, Bunka Fashion College, Tokyo Belle Epoque Seika Chouri College and others |