Japanese as a communication tool
An Language School's campuses are Ikebukuro campus, Narimasu Campus and Nerima Campus.
All of them are located in the place which you can access train station within 3 minutes,
so it is very convenient to access the center of Tokyo.
As there are dormitories nearby schools,
you can study calmly in the daily life and enjoy the center of Tokyo in the week-end.
Good learning are made from good environment.
We provides an environment where students comfortably study and live their life in Japan.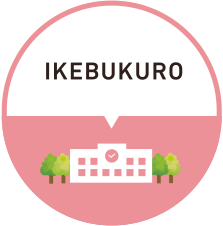 Ikebukuro Campus has sufficient environment for proceeding to college and university, such as the class specialized for aiming highly selective university.
You can study not only Japanese, but also math, basic academic skills and science in Ikebukuro Campus.

The teacher of Narimasu Campus know their students' needs and teach what they need to study.
The students learn necessary expressions for daily life and practice in group learning.